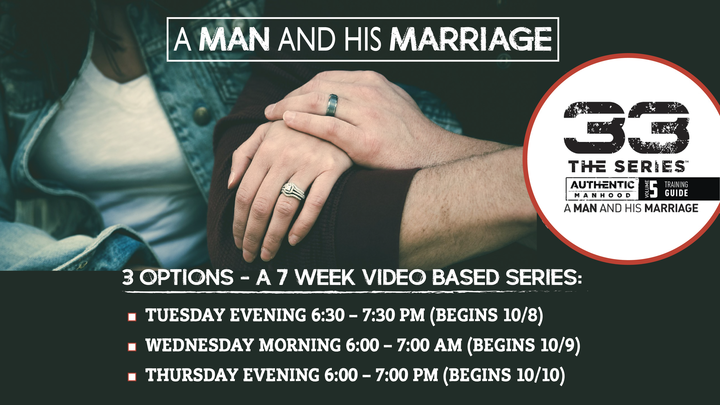 Men's 33 The Series - A Man & His Marriage
October 8 - November 21, 2019
$20
Dates & Times
Oct 8 - Nov 19, 2019

6:30pm - 7:30pm

Oct 9 - Nov 20, 2019

6:00am - 7:00am

Oct 10 - Nov 21, 2019

6:00pm - 7:00pm
Attendee Types
Tuesday Evenings, 6:30-7:30 PM

$20

Wednesday Mornings, 6:00-7:00 AM

$20

Thursday Evenings, 6:30-7:30 PM

$20
Details
Men, join us for a video and table discussion based community. 33 The Series is designed to inspire and equip men to pursue Authentic Manhood as modeled by Jesus Christ in the 33 years he lived on earth.
"A Man And His Marriage" covers important but often misunderstood details about marriage, including biblical foundation, servant leadership, friendship, and sex. It concludes with specific, practical ideas that can help you bring new life to your marriage.
Offered Tuesday evenings, beginning October 8, from 6:30 - 7:30 PM
OR
Wednesday mornings, beginning October 9, from 6 - 7 AM
OR
Thursday evenings, beginning October 10, from 6:00 - 7:00 PM
Cost is $20. Scholarships are available (contact Jack Lee: jacklee54@att.net).